Who am I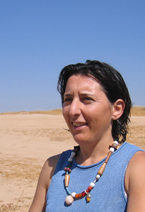 My name is Yvette Nahmia-Messinas.

I am a healer, a writer and a visionary. I believe that the world we live in can become a paradise in terms of how we treat each other, the animals and the planet. I believe that world peace is possible, and that human brotherhood is around the corner. I believe in Healing the World, and work towards the Jewish notion of Tikkun Olam, the Mending of the World.

I am married, and mother to three daughters. I was born and raised in Athens by parents of Greek Jewish descent. I currently live in Israel and spend the summer holidays on the island of Aegina, Greece. I enjoy swimming, in the Greek sea and walking by the sea of Aegina island.
I am a healer, certified Grinberg method coach (1st level) and a Reiki Master. A writer, the author of the collection of poems "They All Sound Like Love Songs, Women Healing Israeli-Palestinian Relations." Primarily though, I am a student, an eternal one. I love studying and learning, growing and expanding, teaching and sharing. I enjoy facilitating and leading groups that have come together to learn and grow, especially fellow women.

I love empowering women. I love supporting them in finding their unique voice and path as I have been supported by other wonderful women to find and honour mine.
I am the co-founder of the Environmental NGO ECOWEEK with activity in Greece, Cyprus and the Middle East.
Picture: Elias Messinas