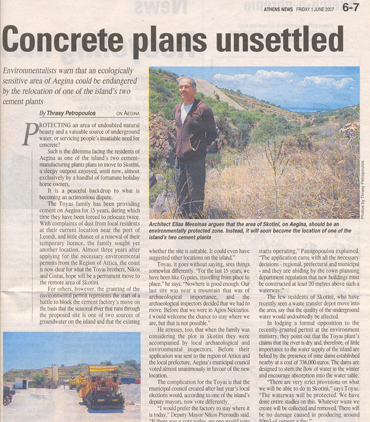 www.ecoweek.org

ECOWEEK NGO was created by Elias Messinas, who as a young architecture student met and was inspired by the late Egyptian architect Hassan Fathy. Fathy, whom Elias met in Cairo, Egypt, urged him to empower young professionals to be of benefit to their communities. ECOWEEK design programs and workshops are hosted by universities, municipalities, and institutions around the world, emphasizing the principles of education, co-operation and sustainable design, and engaging in placemaking and interventions in the public space. ECOWEEK workshops often take the form of hands-on design-build projects which, in addition to their educational and training value, leave a positive impact on the ground. ECOWEEK programs inspire and empower young students and professionals to become catalysts for change.

www.ecoweekgreenhouse.org

The GREENHOUSE is the platform established by ECOWEEK NGO for ecology, innovation and entrepreneurship for society and the environment for young professionals – among them, architects, engineers, designers, and landscape architects. A platform for creative work that involves ecology, the environment, ecological building, clean energy, and recycling and reusing waste into the design process. "We really learned that with very few resources we can add value to the city!" The GREENHOUSE takes the form of temporary or permanent design workshop groups that are assigned real projects by real 'clients' – municipalities, local councils, local communities, NGOs.
HELIOS (2005-2013) was a non-governmental non-profit organization established on Aegina island, to promote sustainable development, not as a tool for unlimited development and economic growth, but as a tool to allow the sustainability of earth's ecological systems and cycles. HELIOS was established by Elias and a small group of architects and other professionals in 2005. In 2007 HELIOS was instrumental in diverting plans to establish two concrete factories on the Skotini valley, an area of untouched beauty on the island of Aegina. An area also important for protecting the quality and quantity of underground water in Aegina. Elias as HELIOS President, was interviewed by Thrasy Pertropoulos of Athens News in May 2007, and by Fotini Pipili of SKAI 100.3 radio on May 19, 2007. In 2006 HELIOS participated in the ECOWEEK events in Aegina, co-organizing a lecture by Prof. Dimitris Rokos, of the National Technical University, which took place at the Folklore Museum of Aegina. The lecture presented integrated development for a life worth living, as opposed to uncontrolled development and growth of economies and cities.
In 2004 Elias with his wife Yvette, the late David Fais of Zur Moshe (Israel), and a small group of dedicated people created park Athens 2004, as a symbolic gift to celebrate Athens hosting the Olympic Games 108 years after they were revived in modern Greece. The park was created thanks to the generous donations of private individuals in Greece, Israel and the US, the Greek State, and the Jewish Communities of Greece. The park is located at Moshav Zur Moshe, a moshav established by Greek immigrants from Thessaloniki in the 1930s. The park covers an area of approx. 40,000 square meters, planted with over 200 trees. The park includes the donors' pillars and flag posts in the entry, the children playground donated by the Fais family, the promenade donated by Sabby Mionis, and the 'Righteous of Athens' park, where Greek officials are honored for their contribution in establishing bridges of peace, understanding, co-existence and tollerance in Greek society. The park Athens 2004 was dedicated in July 2004 by the Ambassador of Greece Panagiotis Zografos, in a ceremony attended by Greek Consule in Haifa Kostas Zinovios and Greek Embassy officials.

For more information on the park click here
Aegina island located in the Saronic Gulf, just 35 minutes ride on hydrofoil or one-hour on the boat from the port of Pireaus. An island that, despite all odds, has managed to maintain its unique identity - still. Nevertheless, in the last 10-15 years over-population, over-construction, and over-consumption, has stripped the island of some of its most unique natural, cultural and historic sites. Aegina is also the site where many known or less-known Greek architects have left their creative imprint: A. Constantinides, K. Dekavalas, A. Tombazis, K. Tsipiras, Y. Makris, V. Douras, T. Fotiou, I. Benesaya, D. Diamantopoulos, and many others. Aegina is also known for its vernacular architecture, such as the world-famous Alexandros Rodakis' house in Mesagros, built in 1880, and Mailis & Brown House in downtown Aegina. Aegina, as the first capital of modern Greece is also enriched by some unique Kapodistrian civic buildings, such as the library, the archive and the orphanage (later prison). When visiting the town of Aegina, one cannot but stop and say 'good morning' to almost eveyone in town. With a registered (2002) population of 14,000 people in Aegina people still know each other, people still talk to each other, people still feel the bonding (and social pressure) of a community. This is a very unique experience today, as globalization is separating people, distancing them from their surrounding community. Elias intitated in Aegina a number of projects, involving and benefiting the local community including:
(a) A household waste recycling program (campaign started in 2004 and program finally implemented in May 2007) and in devising a floating solution for the waste problem of the Saronic islands.
(b) Raising public awareness in environmental issues through hundred of articles in Greek in the Saronic Islands free press, and local newspapers.
(c) Establishing initiatives, such as ECOWEEK events in Aegina in 2005 and 2006, introducing to the local community concepts of energy conservation, waste recycling and organic waste composting, and ecological (or 'green') building.