Greek Jewish monuments, the synagogues, cemeteries, communal buildings,
and the other architectural treasures of the pre-World War II Jewish communities of Greece,
suffered a great deal from Nazi persecution. Half a century of ignorance and neglect has led
to the loss of the most part of this important heritage.
Kol haKEHILA the newsletter of the Jewish monuments of Greece
is active in their documentation, study and preservation.

-----------------------------------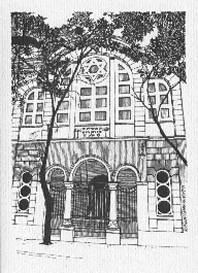 -----------------------------------
SUPPORTER of Kol haKEHILA
Basic contribution $50 per annum

With your contribution you will receive a set
of 5 original postcards
of the synagogues of Greece
-----------------------------------
Please make checks payable to Kol haKEHILA
Mail to Box 8062, Jerusalem 91080 Israel
SUPPORT FORM
-----------------------------------
BENEFACTOR of Kol haKEHILA
Support Kol haKEHILA with $500 or more

Benefactors will receive a signed copy
of the book "The Synagogues of Salonika and Veroia"

-----------------------------------

Please make your check payable to Kol haKEHILA
and mail to Box 8062, Jerusalem 91080 Israel
or contact Kol haKEHILA


Top