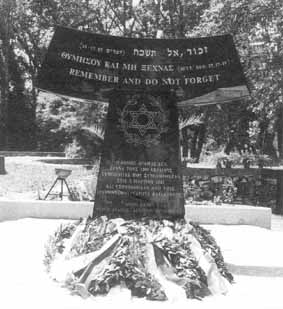 The Jewish Community of Drama which numbered 1,200 Jews prior to the Second World War. Only 39 survived the Holocaust. Today only one family is living in Drama, the family of Iakovos Koen.

The Holocaust monument was erected by the committee of the neighboring city of Kavala, consisting of S. Tsiminos, V. Venouziou, and S. Angel, and the Central Board of Jewish Communities.

The monument was inaugurated on Sunday May 9, 2000, as the closing ceremony to a week of events in the memory of the Jewish community of Drama.

The inauguration of the Holocaust monument was followed by the revealing of a plaque mounted on the wall of the tobacco warehouse, where the Jews of Drama were gathered prior to their deportation.