CEMETERY OF DIDIMOTICHO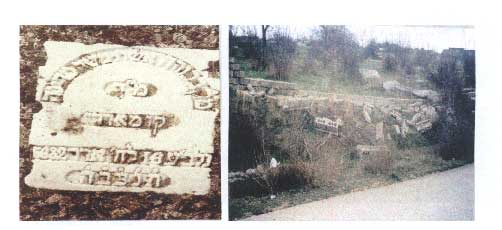 Left: Tombstone in the Cemetery of Didimoticho.
Right: View of the neglected cemetery through the collapsed wall
Historical Data: Didimoticho has two Jewish Cemeteries which have historical tombstones. The oldest tombstone dates back to 1454 (CE). No Jews have lived in Didimoticho since the Holocaust.
Area/Capacity: 4,000 sq. m. (the first cemetery) & 1,000 sq. m. (the other)
Actual Condition: The surrounding wall of both cemeteries has collapsed and the tombstones are totally abandoned.
Necessary Restoration Works: The cemeteries must be cleaned and fenced immediately.
Estimated Cost: 10 million drs. ($29,000 US)
---
Kol haKEHILA thanks the Central Board of Jewish Communities in Greece and the International Survey for Jewish Monuments for some of the information on this page.